Video Commentaries by
DAVEY DRUMPF
(The Donald's Long-Lost Third Cousin Twice Removed)
Drumpf Files #8
Cabinet of Foxes Guarding Chickens, part 2:
Unkind cuts by a cabinet worth more than 43 million households: That's one expensive cabinet! The conflicts of interest are compounded, interestingly, by the conflicter-in-chief, Boss Tweet himself.
(P.S.: Go to Davey's facebook page to leave a comment.)
Donation Form
LIKE THE VIDS? BE A CHUM, SEND A SUM!
Reviews
One of the funniest satirists of the last 30 years launches his hilarious new take on the Drumpf era. – Stoney Burke
Bloody brilliant. – Peggy Seeger
---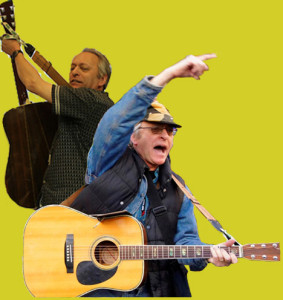 Audiences of all ages and hair styles have thrilled to the post-corporate comic stylings of satirical songster Dave Lippman.
The 99% troubadour (he's not yet complete) and investigative songwriter afflicts the complacent, takes the air out of the windbags of the week, de-distorts history, and updates worn-out songs with parody and thrust. Sample tunes: All We Are Saying is End Corporate Crime, I Hate Wal-Mart, Alberta Tarbillies, Brother Can You Spare a Diamond, Sgt. Pepper Spray…
Specializing in passionate, comedic original songs and unsingable singalongs set to familiar tunes, he presents a swirl of multimedia images so no one will bother watching him grow older onstage. It's a multi-media romp through recent generations of social justice activism, told through stories of glories, near-wins, and windmills tilted at. Remember the hard times, fight for the better ones – in harmony!
Listen to songs/watch song videos

In the video above, Dave Lippman, Wild Bill Bailout, and George Shrub tear through the years (decades) with a fairly unbalanced commentary on life in these troubled times.
2-minute video of 50 years of such adventures:

For more video, see Wild Bill's Blog and Songs & Videos.