Post-Corporate

Song-Maker
provides a passionate, comedic, participatory, multi-media romp through society's ills and thrills.
Known if not feared on many coasts and in some interiors for his sharp send-ups of topical subjects and the banksters and politicians who rule those subjects, Lippman has toured widely in the United States, Europe, Australia, and Central America in a 35-year musical career that has brought him respect, laughter, and occasional plaudits as a top-notch serio-comic documentary songmaker. His specialty genres range from torrential tirades, often accompanied by his handcrafted videos, to unsingable singalongs, with lyrics projected for all to attempt.
Lippman's notoriety began in 1969 when he was named an unindicted co-conspirator for singing about the "Guatemala sweepstakes" at a rally that preceded the escorting of a recruiter from the United Fruit Company off the campus. After having a song recorded by Country Joe MacDonald, Lippman joined with a San Francisco comedy group to create the Reagan for Shah Campaign, in which he introduced George Shrub, the Singing CIA Agent. Shrub then toured as security detail for the Ladies Against Women.
In the eighties, Lippman performed in war zones in Central America and toured from Birmingham Alabama to Birmingham England, then on to Belgrade. In Germany he sang for squatters and anti-nuclear activists. Stateside, he joined a caravan of Salvadoran refugees through Texas. Ex-CIA agent John Stockwell declared Lippman prescient for writing a song about the Grenada "rescue" a year before it happened; Lippman declared it manifest destiny, based on the size of the island.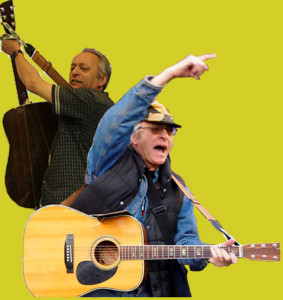 After campaigning as George Stump, Moderate Clearcutter, with Earth First! in the Redwood country, he toured with Yippie founder Paul Krassner and the British anarchist comedian Tony Allen, as well as performing in theatrical runs in San Francisco and Los Angeles. Lippman brought Shrub to the School of the Americas in Columbus, Georgia, CIA Headquarters, the White House, and countless rallies and benefits for peace, global justice, living wages, fair trade, environmental sanity, and apple pie. In 2009, Shrub went back into the cold, only to be replaced by Wild Bill Bailout, the Bard of the Bankers, who rode in from the west to bail out the rest. Just lately, Lippman has collaborated with long-lost Trump cousin Davey Drumpf with edutaining videos. Stay tuned!
Lippman has fourteen releases to his credit, not counting jail. The latest is You Don't Own the World. Previous releases include the 1987 LP Shoot from the Lipp and 1998's I Hate Wal-Mart, which features "Guess Who's Coming After Dinner" and  "All My Friends Are Semi-Famous." Other tunes: "Brother Can You Spare a Diamond," "The Sport Futility Vehicle Tango," "Your Car is Disgusting," "Battle Him in Public." and many more endearing titles. Two video DVD's are in release, with many more mini's on the Tube of You.
"Viciously funny" – Guardian (England)
"One of my favorite political satirists. This is a very funny man." – Erich Lee Preminger
"The Dean felt that more harm than good would come from
your visit" – student, Skidmore College, New York
"God, that man can talk! What a great writer!" – Utah Phillips
Contact me at lipp at davelippman dot com